surfing for digital nomads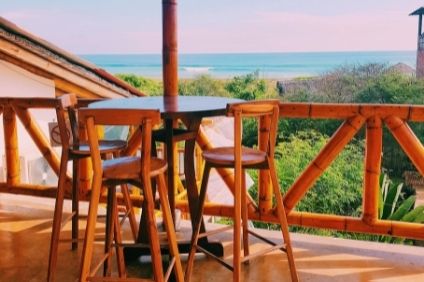 Surfing for Remote Workers
Are you a digital nomad or do you work remotely from your laptop?
Perfect! This surf package is a great option because you can surf and live on the beach without leaving your responsibilities aside!
Nothing better than working on your laptop with an ocean view! And if there are good waves, run to the water!
Enjoy our surf spot with few people around, there are empty waves for everyone!
Las Tunas is a Beach Break, that means it's sandy bottom and for all levels of surfing. Just remember to respect the ocean and its swells and tides time.
Lovely sandy bottom and warm water.
In the case we have big swell conditions, we count with plenty of other surf spots in a short distance.
🌊 Uncrowded waves for everyone
❄️ No cold water, it's Ecuador!
🚌 Short distance surf spots for all levels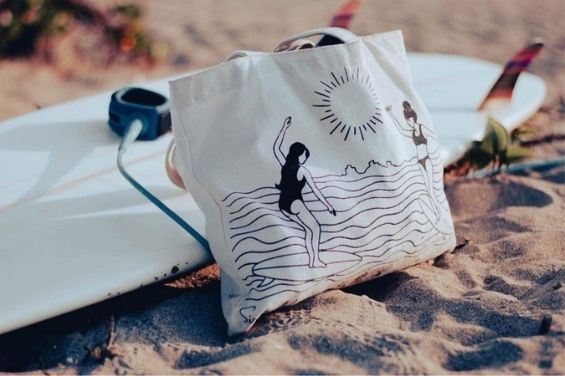 work surf package includes:
– Charming bamboo house with 3 breakfast options and free coffee all day
– Shared and fully equiped kitchen to cook your own meals
– Surfing photoshoot
– Accesory of Sirenas del Surf
- Rent a Surfboard or bring yours
- Surf guiding for intermediate and advanced surfers
- Surf trips around Ecuador
Your surf house is located one block from the ocean, walking with your board by a charming footpath gets you ready to catch the waves! 
The vibe is really nice, both hosts and volunteers workers will treat you with kindness and love.
The room options are dorms and private rooms, be sure to ask for availability. The common areas are 2 terraces with ocean view, shared kitchen, green garden.
The wifi is speed is good, most of us here are remote workers and we count with tables and spaces you can choose as your office.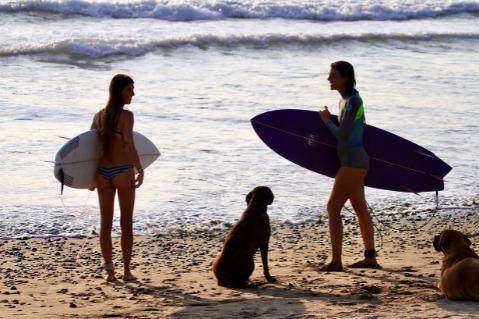 Having a quality lifestyle is one of our values. 
We want you have the best life as you can, being able to do your job but also enjoy of surfing that is what keep us young.
This package will give you an immersion in the Ecuadorian culture, get to know different surf spots and have a simple lifestyle with a "food truck" filled with vegetables in front of your door!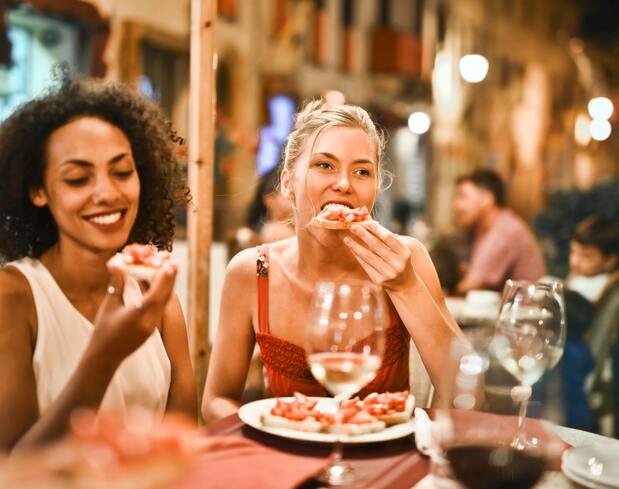 – Lovely Spa Day
– Night Girls Out on Ayampe's Bar
– Some days a week there are  lunch and family dinners available you can join
– Stay chilling at the Onda Bar
– Airport transfers (Guayaquil – Las Tunas)
Is it possible to work and surf in Ecuador?
Of course! Many think that Ecuador, being a developing country, will not have good internet, but it is not like that! Many accommodations have fiber optics nowadays and it will allow you to work from your laptop and run out to surf when there are good waves!
We think it is really possible to work online and live your best surfing life, at the same time you meet people from other countries, share with the locals and why not, learn or practice your spanish!
Work And Surf: levels of surfing
This surf trip was created both for women who want to learn to surf and for those who already do it, and simply would like a surf guiding for the different spots.
We all know that when surfing a new spot it is important to know about the currents, bottom, entrances and exits, rocks to have in mind and how the surf spot works.
Surf & Work in Las Tunas: our town
Las Tunas is a chill town with a large and empty beach in the middle of nature.
You can walk by the beach early in the morning before starting your work day or even walk a few steps from the hostel to the beach to enjoy the sunset after being all day in your laptop.
The lifestyle in Las Tunas is for those kind of people that like simple things, buy vegetables on the food truck that stops by the door every week, or drink a coconut from the local shop.
Las Tunas is a very consistent spot and we have waves all year round.
Also our location is privileged, because we are just 15 minutes from Puerto López, a city with bigger supermarkets, health center and ATMs, in case you need it.
Another places closed by, are Montañita and Ayampe.
Work and Surf: the season and the waves
As we said before, Ecuador has waves all year round, but we have two different seasons: winter and summer. 
These winter and summer are different than normal ones, winter in Ecuador means warmer weather, sunny days but tropical rainy nights. And what's the best: perfect waves created by the north swells. You don't need a wetsuit in this season. And be ready to be bitten by mosquitos!
And the summer is colder in Las Tunas, we have mostly cloudy days and drizzles a lot. The water gets a bit colder but not less than 69.8 F. Why does this happen? Because this is the Humboldt current coming from the south, that also brings a lot of bioluminescent plankton and humpback whales that jump in front of you while surfing!
In this season you might need a 2 or 3 mm short legs wetsuit but it is also magical.
Work to Surf: digital nomad lifestyle
After the pandemic, remote jobs became much more popular and companies decided to stick with them.
It has been proven that people are way more efficient organizing their hours and doing their job than going to an office and stick to a schedule, but at the end, the work done is not the same.
Therefore, for those who have been digital nomads for a long time, and those who are new to it, we want to invite you to continue with your work but to enjoy a quiet beach, a cool atmosphere and a community of female surfers in this small town of the equator that will conquer your heart.
Surf and Work: What else to do?
Activities with a local guide after your surf-work routine:
Hello! My name is Iva, I'm not originally from Ecuador, but I know this country very well, since I've been living here for about 8 years.
I can say I know this part of the pacific coast better than some locals. Apart from surfing, my passion is traveling and sharing my knowledge with other people, so I'm more than happy to show you hidden beaches, national parks, and the best restaurants and bars in the area.
Work and Surf Pack: Prices and Duration
You can book this package for 1 or 2 weeks, and then if you like it, you can extend your stay.
The best thing would be to stay 2 weeks so you can experience this country and its culture deeply and get immersed. Also in 2 weeks you will be able to surf in Las Tunas but also other surf spots around.
But if you only have one week available, we can show you around the main things and still enjoy it.
The prices will vary in terms of duration and the type of room, there are private rooms and dorms up to 4 people, with shared bathrooms.
Pricing:
One-week program: from USD 800 shared / from USD 1100 private room
Two-week program: from USD 1300 shared /USD 1700 private room
1- Send us a Whatasapp message in the button below to check availability for the dates you're planning your trip. 
2- Make your payment to confirm your booking here:
Still have questions about Work & Surf Trip?